3 Benefits of Custom Made Metal Signs in the Interior of Your Home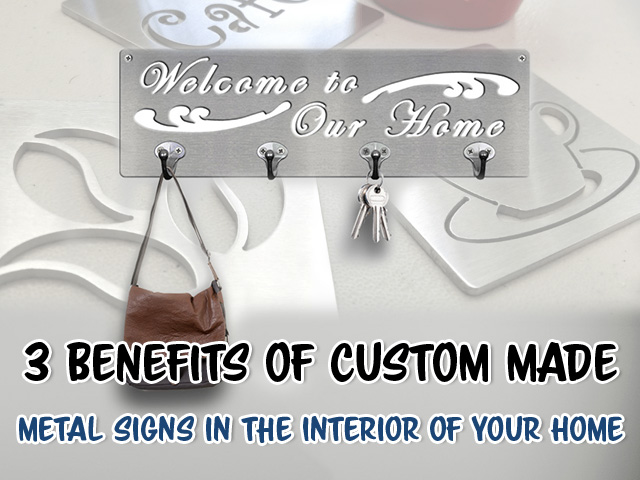 One important element in any laid-out establishment is the implementation of interior design. This is more important than some may believe. Proper interior design is crucial for giving your home the overall vibe and feel it needs to avoid it feeling bland or uninteresting. Of course, this is why the majority of homeowners go out of their way to invest in decorating or even beautifying their living quarters to avoid a plain outlook. We decorate our houses with fitting decor, even adding details of sentimental or memorial value be it a painting or photos of family members. This proves how wall art can go a long way in interior design.
To this day, companies have manufactured many different kinds of decor elements to enhance the decoration of wall areas and what surrounds them. Several variations of the average metal wall sign have been sold and implemented to contribute to interior and exterior decorum. Let's not forget, there's more to decorating an interior space than just the furniture inside. Although its importance is easily underestimated, the surrounding background goes a long way in emphasizing the other elements within your home.
Installing a Metal Wall Sign for Your Home
It goes without saying that when decorating your home, you're going to find new and improved elements that best suit your family, their image, and their priorities. For whatever concept you'll have in mind, of course, you're going to need a sign that will fit your overall design plan. Don't be afraid to experiment and try new things. There are many hues and color choices out there, so experience them and broaden your scope. For one example, perhaps each member of your household has different colors that they love. Maybe this will inspire you to find wall signage that will represent everyone's opinion identifying the strength of your family unit.
Remember to also consider the overall color of your background when choosing a sign as well. Make sure their colors don't contrast too far. Another detail to focus on is remembering where you intend to hang the sign in the first place. Ask yourself, will the sign be too large or too small? Will it stand out? Will it get hidden or is it too obvious taking up the room? Allow for family members to voice their opinions as well. What they say could open your eyes to details you might've missed, or just give you a larger viewpoint adding to the creativity needed to fulfill your vision.
Why Metal Signs are the Best Decor to Highlight an Area in Your House
Due to the strength and dexterity of metal signs, they've proven time and time again the advantages they have in their sturdy superiority in comparison to their counterparts such as wood, plastic, or glass. The strength of their metal is undeniable and so is its lifespan. It's also worth mentioning that the metal can be cut, split, bent, or sliced without causing damage beyond control, so the versatility in customization is much larger than expected. However, these aren't the only positive details:
Exudes a Feeling of Sophistication and Luxury
The material itself has an elegant look that can be expounded upon with different types of polishes. The sophistication of your home will only grow even more when using polishes such as a matte or shiny finish on the metal. This will give your visitors an eyeful to appreciate when entering your home providing a certain appeal and elegance to the visit.
Make it Your Own
Between you and Metal Signs & Your Designs, you can personalize your metal wall art to however you see fit to your liking. We make it our mission to develop your metal sign the way you want it to look like, and will offer suggestions to make sure the design works. As we tell you what's needed to accomplish our work, never be shy about telling us how you want the sign to look or what changes to make during the conceptualization stage. Metal wall art is an important factor in a home, so its worth giving and listening to details while also asking necessary questions along the way. After all, its our job to listen to your opinions on the subject.
Utilized in Many Different Ways
You should know there's more than one approach to showcasing impressive wall art. They're capable of being designed with more than one function. They can be cleverly used to serve as a useful guide to different sections throughout the house. Another option is perhaps using your metal wall art as a gallery reminding your family or showing visitors of the household's more artistic side. Is someone in your home a collector? The setup is also very useful for showcasing these collections admiring the progress made so far. Bottom line, the options for metal frames are certainly not limited and can create many inspirations for you and others.
Ready to redecorate? Simply rethinking the layout? A metal wall sign just may be the right choice for you. You can immediately begin by taking the time you need to brainstorm what it would look like, how it will tie the room together, the motif you're following, and what it says about you and your home. The color, shape, theme, and size are all at your leisure and will definitely mold your sign into something unique and unforgettable. The chosen wall art will definitely help you expand your home design concept and allow you to branch out to new ideas for other parts of the home. All you have to do is go out and explore the options and finding different and unique elements to experiment with. Contact Metal Signs & Your Designs for more information and to get started with your custom design!