Function Meets Fashion With These Awesome Coat Hook and Rack Ideas!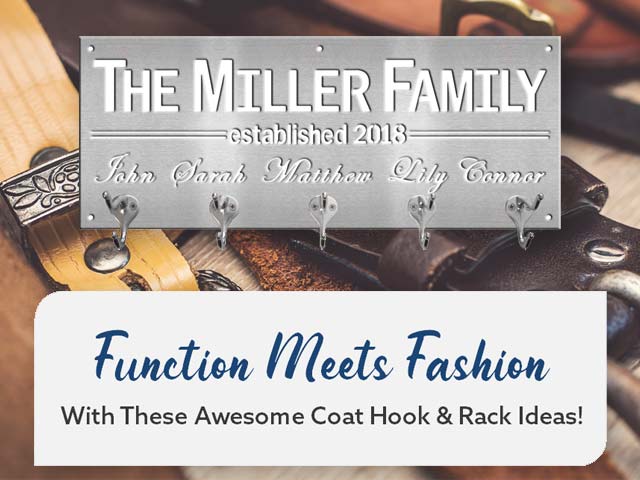 Do you have an eye for trending interior style and love to make the most of everyday household items? By transforming your coat hooks and racks into multi-purpose innovations, you'll add a layer of style and functionality to your household.
Coat hooks and racks are among the most versatile items in your home. The exciting ideas below will leave you inspired to rethink the rack. Time to get creative!
Turn Your Colorful Scarf Collection Into Functional Modern Art
Is your closet due for a declutter or re-organization? Consider turning your scarf and shawl collection that's been collecting dust into a dazzling display. With a beautiful wall mounted coat rack, add color and brightness to any room with your unique neck-ware.
Unlike other art pieces, your new coat rack art display can be mixed up and changed around on a whim. Having a seasonal party? Throw your green, red or glittering scarves up to deck the halls. Your outfits will benefit too. Regularly seeing the beautiful scarves and shawls displayed will inspire you to add a dash of color to your outfit as you step out for a night on the town.
Coat Racks Are Perfect for Organizing Your Belts
You'll be one step closer to the perfectly organized closet or wardrobe once you get those belts under control! A coat rack is the ideal choice for creating a tidier space. Instead of losing your favorite belts because you forgot which pants they were left on, a functional wall rack mounted in the side of your closet is the simple solution. With a clearly displayed belt rack, you'll find the perfect belt to match your outfit in seconds.
Jewelry Disasters Are a Thing of the Past
If your valuables typically end up tangled in a hidden drawer, a wall mounted coat rack is the fix for you. With the right coat rack, your cluttered jewelry quickly becomes an eye catching addition to your bathroom's design. By making this artistic upgrade to your space, keeping your jewelry organized is much simpler. With multiple hooks, you can separate your necklaces, bracelets and earrings so you'll never misplace your precious items again. When you're in a hurry getting ready to go out, the last thing you want to do is damage your jewelry or waste time untangling a mess.
Purses and Handbags Were Practically Made for Coat Hooks
Who doesn't love a nice handbag? Well, no one does when they are in a heaping pile that takes up half of the closet! Just like your beautiful scarf collection on display, purses can serve equally well when adding a splash of color to your home design. By organizing your top-of-the-line handbags neatly in the foyer or mud room, deciding which bag to grab for the day will be an easy choice.
The Latest and Greatest Addition to Your Kitchen
Since we're organizing half of the house already, we might as well step into the kitchen too! Turn your coat racks into the ultimate kitchen utility device. Free up valuable cabinet and counter space by making the most of your hooks. Anything from your pots and pans to your collection of cooking utensils can make the wall. Perfect for aprons, towels or other kitchen accessories, the only limitation is your imagination.
Turn Your Coat Rack Into a Brillian Art Expose
Create custom wall décor that you will be proud to show off. The hooks are perfect for displaying your favorite art pieces in a unique and refreshing way. With simple wire hangers, you can turn bland wall art into a swaying display that moves with the breeze. Add flowers, ornaments, or any other interesting items you can think of to bring your display to life.
Create A Cozy Coffee or Tea Nook
Add an elegant touch to your café lounge area by mounting your mugs or tea accessories. If you happen to be a collector of fine china, displaying your exquisite pieces or adorable tea pots could be the perfect addition to your space. With this unique interior design idea, your friends will definitely be back for another tea-time!
Eliminate Clutter Like a Pro
Items that are taking up valuable real estate in your home deserve to be on the wall! The ironing board that's clogging up the laundry room, the shoes cluttering your hallway or the dog's leash and accessories. By clearing out and freeing up your in-demand space, you'll find that life just became a little simpler.
Revitalize Your Office Space
A coat hook is the perfect addition to your home or office's workspace! The papers and folders that keep piling up in the corner of your desk just found their new home. Hanging folders or a well placed dry erase board are useful additions to enhance your office space. Important sticky notes and reminders will stand out so you'll never forget your next appointment or business meeting. With your desk clear from clutter, you'll have improved focus and increased productivity.
Minimize the Disaster in Your Garage
We've all seen the garage that looks like a tornado just swept through town. Don't let your garage fall prey to the clutter and hang those expensive tools up on the wall. Hanging your tools can prevent rust and damage from things like water pooling on the garage floor or accidentally driving over them. You'll also save time on your next project since you won't have to search through your cluttered toolbox to find what you need.

---
Hopefully you're inspired and will never look at your coat rack the same way again! By taking your coat rack ideas to the next level, organizing and revitalizing your space can be a fun project. Can you think of some other fascinating and unique uses for the coat racks in your home? If you're looking for a quality coat rack to get you started on your next re-design project, we highly recommend the custom pieces at Metal Signs and Your Designs.