How to Start a Home Bar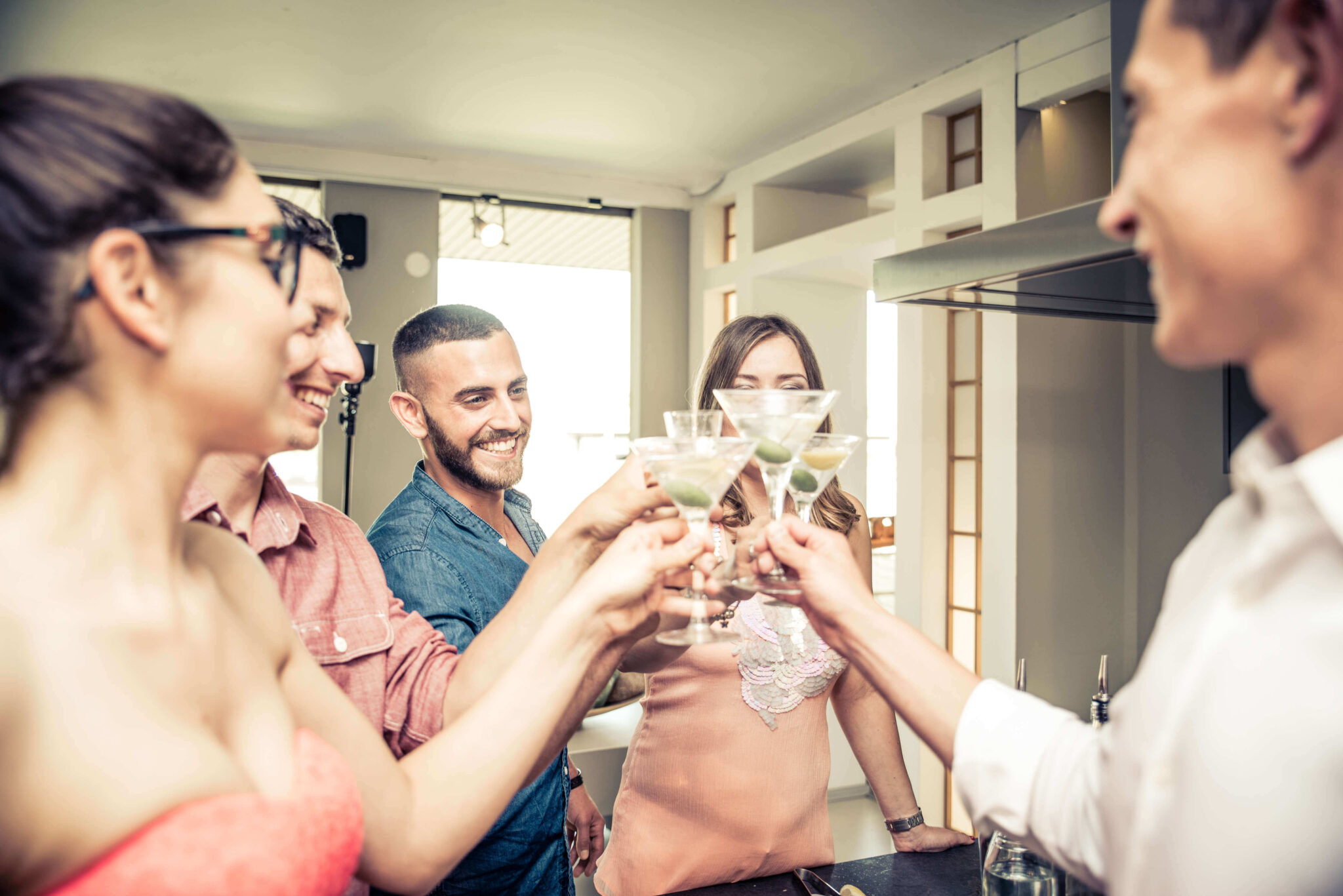 Having your own home bar is a great option if you like entertaining and want to be able to serve drinks in a stylish manner. If you're thinking of starting your own home bar, here are a few tips to get you started.
Buy the essential spirits, mixers, and garnishes for your bar
A great tip is to begin by buying just the things necessary to make the cocktails and drinks you know and love, then gradually expand the number of cocktails you make (and the number of spirits in your bar).
Not sure which cocktails to make? Buy a cocktail book or make a few Google searches to review recipes for the cocktails you love and find new cocktails that you want to try. This is also great for finding new cocktails that use only the ingredients you already have!
Below is a list of common alcohols, mixers, and garnishes that people may have in their home bars.
Spirits: gin, vodka, bourbon whiskey, scotch whiskey, tequila, rum, beer, wine
Mixers: simple syrup, bitters, club soda, tonic water, Coke, Sprite, ginger ale, orange juice, cranberry juice, tomato juice, pineapple juice
Garnishes/additional flavors: olives, limes, lemons, seasonal fruit, herbs, salt, sugar, ice
There aren't any particular brands listed here, and for good reason: purchase the specific bottle that fits your needs, as according to budget, taste, and use. Take into consideration whether you'll be using any mixers with your drinks, how much money you're willing to spend, and how discerning your palette is.
Get the right glassware and equipment for your bar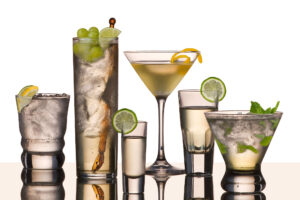 Again, you probably won't need all of these things for your own bar–just buy the things that you need for the drinks you want to drink. Also, based on your budget, you can switch out or omit certain things: use a normal spoon instead of a bar spoon or mix your drinks in a regular glass.
Glassware: martini glasses, rocks glasses, white/red wine glasses, highball/tall glasses, beer mugs/pint glasses
Equipment: shaker, strainer, mixing glass, muddler, jigger, bar spoon, corkscrew and bottle opener, ice cube trays
Additional items: toothpicks for garnishes, drink napkins, coasters
Choose where you'll put your bar in
Ideally, your bar would be in or near your entertaining area so you don't have to run from the living area to the kitchen each time someone wants a refill. Consider both where your bar will be and what it'll look like.
If you want to display your alcohol, think of setting everything up on a console table or putting everything on a nice tray so that you can move it around and display it on a shelf or on top of a side table. If you would prefer to be able to move your bar around or keep it out of sight when you're not using it, invest in a bar cart. If you'd prefer to keep your bar out of sight, consider keeping it in a cabinet so you can put everything away easily.
Decorate your bar
Make your bar look nice by investing in small pieces to organize the area. Invest in holders for your napkins and coasters. Purchase an ice bucket so you don't have to run back and forth from your freezer and your bar. Keep a discreet trash can near your bar area so you don't have trash or used napkins laying around. Have a couple of nice towels to wipe your hands on and clean any spills.
Add a personal touch with customizable bar decor. Metal Signs & Your Designs offers customizable decor using a comprehensive library of graphics and fonts, including glasses and bottles, as well as a custom sign based on an image of your choosing. Mix and match different graphics to make your own sign or design a completely customizable sign that's unique to your home bar.